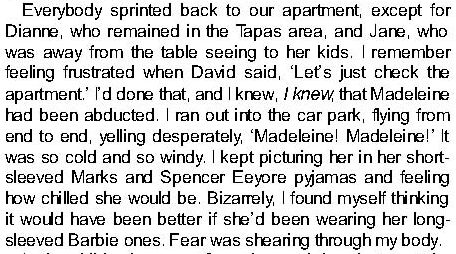 Page 98 mentions a family of nine from Ireland Rua da Escola Primaria a few minutes walk from apartment,

Man seen was similar to man seen by Jane,was in 30s,wore cream/beige trousers ,person didn't seem to be tourist.
Page 328-329 says Jane sighting was similiar
Page 370(index says 365) compares details of Jane Tanner's and irish family description

PAGE 63-64 SAYS LARGE BROWN STAIN ON PINK EEYORE PYJAMA TOP

Yvonne Mitchell.

page 86-87 showed Kate her documents,possibly a CRB certificate, sat on a low wall,with Dave standing nearby. Dave said that you don't know who this person is,Kate didn't want to talk to her,she didn't think the person was a social worker,says she doesn't still know who she was.

Kate writes "several witnesses, including Fiona, Russell and Rachael, reported seeing Murat near our apartment on the night Madeleine vanished"


SHE DOES MENTION ROBERT MURAT,FIONA,RACHEL AND RUSS AS WELL AS SILVIA BATISTA SAW RM THAT NIGHT.

CUDDLE CAT WAS LYING ON BLANKET? PAGE 72

PAGE 67 DAVID POPPED HIS HEAD AROUND PATIO DOOR
KATE HAD TOWEL AROUND HER AFTER HAVING SHOWER HEARD HIM AT 6.40

P256 SAYS THAT THE DEPARTURE DECISION WAS MADE 3 WEEKS BEFORE THEY LEFT

PAGE 63-64 ONPINK EEYORE PYJAMAS,DIDN'T SEE STAIN DAY BEFORE,ASSUMED TO BE TEA STAIN

IT APPEARS KATE RAN INTO THE CAR PARK AT THAT THE BACK OF APARTMENT. GERRY ASKED MATT AT ABOUT 10 PAST 10 TO GO TO 24 HOUR RECEPTION TO CALL THE POLICE.
KATE SAYS SHE WAS HITTING OUT AT THINGS INCLUDING BANGING HER FISTS ON THE METAL RAILING ON THE VERANDAH.
SAYS FRIENDS SPRINTED TO APARTMENT,EXCEPT FOR DIANNE AND JANE

KATE MCCANN DOESN'T SAY SHE KNEW SHE HAD BEEN ABDUCTED IMMEDIATELY,RATHER SHE SEARCHED WARDBRODES/CUPBOARDS

I BELIEVE IT MENTIONED 11PM THAT MRS FENN(REFERRED TO AS THE LADY UPSTAIRS) DID ENQUIRE AS WHAT ALL THE NOISE WAS ABOUT,GOT TOLD A CHILD WAS MISSING,SAID IS THAT ALL OR SOMETHING SIMILIAR AS IF A CAN OF BEANS WAS MISSING.

An extract from the sun in KATES book.....Gerry said wait their in case Madeleine wonders back.

Clips from Blogger: BADBOY