http://www.ionline.pt/conteudo/125004-kate-e-gerry-mccann-queremos-que-as-pessoas-que-nao-falaram-o-facam-agora
MANY THANKS for the translation Ines MCF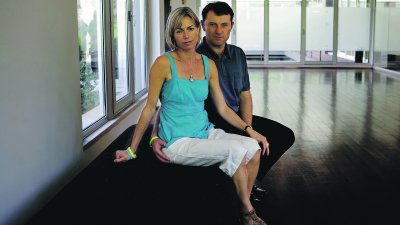 Kate and Gerry McCann. "We Want the Persons Who Did Not Talk To Do So Now"
The McCann couple says that ex – PJ investigator Gonçalo Amaral "prejudiced the search by trying to persuade people that Madeleine was dead". Libel action is underway.
They arrived in Portugal on Saturday and in less than two days have given six interviews. "Madeleine", the book which is based on Kate McCann's diaries, is published today in Portugal, after having sold thousands of copies in the UK during the first days. In almost 500 pages, Maddie's mother narrates a story that begins long before the disappearance of her daughter, on 7th (sic) May, from Praia da Luz, Algarve. In an interview to the i news agency, the couple, who never stop holding hands, confess that one of the objectives for the book's publication is to reinforce the support fund to search for the child, who would now be aged seven.


What is it like returning to Portugal?

Gerry: Coming to Lisbon is always different, in contrast to what happens when we go to the Algarve. Here we meet with our lawyers, whilst Praia da Luz has a more emotional side.

Kate: I feel a great need to return to Prais da Luz. Even in April we were there. Its my last contact with Madeleine and something pushes me there, I feel closer to her.

Why did you decide to write this book?

Kate: There is a difference between writing a diary and turning it into a book. I began in 2007, because I thought it would be good for Madeleine, in order to be able to fill the gaps when she returns. And I wanted my three children to have a report of the truth. In the beginning there was no need to publish, although I wanted to shout the truth. But since July 2008 when the search for Madeleine was abandoned and we now have to finance the search from our fund. It was a joint decision. And I don't want to stop doing all that is possible. I don't want to regret not having done something that could bring information in order to bring Madeleine back.

Gerry: I also think that the book can help find her.

How?

Gerry: In the last chapter there are some photo-fits of people who were not identified and many questions that remain to be answered. That is also one of the book's objectives, that someone could recognise these persons. Madeleine could be found because someone recognises her or because they recognise the images contained in the book.

You have published many photos from before the events that occurred in Praia da Luz. Why?

Kate: In order to provide context. To show how we were before this happened: happy and with much luck. Perhaps to give an idea of how we were and how we are now.

Gerry: For many people, our lives began at that moment and people do not manage to be close to us or to establish a relation with us. We are very normal people, we have a very boring and pleasant life. We currently spend a lot of time centred on the campaigns, on fund raising.

Which constantly obliges you to re-live that night...

Kate: There are situations where I don't manage to connect and disconnect. I don't know whether this ia a more feminine characteristic, but I do not manage to compartmentalise my life as much as Gerry does. I do not manage to do this and think that I would not be able do my work as a doctor well.

Gerry: It is important that people know that we live this every day of our lives. Madeleine is a large part of our lives. We enjoy our life with the twins but there is always a limit, there is always something missing.


But life goes on...

Kate: And at times I want to stop everything and say "Stop what you are doing! There is still a girl missing! And she must be found." And afterwards I begin to think that time is passing, Madeleine is getting older, is separated from us, but...its true, life goes on and we have to continue.

Gerry: We have to find Madeleine and she also has to know this. We have to find answers. Has any parent of a missing child admitted giving up!? Never. There are times when we are exhausted, when we work a lot, but there are always distractions, unpleasant things, things that are written about us in the press.

How do you think the Portuguese see you?

Gerry: I hope they will begin to see us in a better way after reading the book.

Kate: The book will give people more information. Many things have been said that are not true. There is nothing worse for the search for a missing child than saying that she is dead: everyone stops searching.

In the book you criticise the police. What were you expecting from the Portuguese authorities?

Gerry: We do not want to blame anyone for Madeleine not having been found. It has been difficult and unsuccessful and we thank their hard work, but we are interested in what can still be done. We feel deeply that there is more that could be done.

Kate: I was disillusioned and furious by the fact that there is a missing child and that it was suggested that she is dead, without evidence, and that we were involved, also without evidence. Its wrong. I don't know how else to say it. I know that there are many police officers who would very much like to find Madeleine, who worked a lot in this sense and who were not responsible for the altering of the investigation.

Don't you think that the media coverage of the case prejudiced the investigation? If it were today, would you change anything?

Gerry: I don't think that whoever looked objectively at what happened to us, at what was written about us, would think that it was fair or truthful. Its dangerous because people judge by what they read in the newspapers. From the first day when there was following from the media, which was not requested by us. One of our decisions was to know whether we were going to interact with the press. And it was me who decided it because I thought it would help. But nobody was guiding us at the time, nobody gave us specialist advice. We did not break judicial secrecy, we did not interfere with the investigation. And we felt that in the first days, Madeleine was still in Portugal, there were good hypotheses that the police would find her.

Kate: The media is very powerful. Obviously we needed the media's help in order to help find Madeleine, but the media is also powerful in a negative way. Journalists should remember the most important thing: there is a child who is missing. In any case, nothing will change with the media. All the specialists say that the media's help is important.

How did you manage to get the case to be re-evaluated by the British authorities?

Gerry: It was difficult. I have been asking for it for two and a half years. At the beginning they helped, but afterwards there was a distancing. We went to speak to three Home Secretaries to ask for more to be done and we managed that they saw that nobody was searching for Madeleine. And that this was not true. There had never been a re-evaluation and they ordered one. Its a common practice in the UK.

Was this request made to the Portuguese authorities?

Our lawyers made it clear that the case would only be re-opened if there was new evidence. But, if the case is not re-opened, how can new evidence be discovered? We knew that there was information that the police could follow and that is why it was indifferent if the case was open or closed. Let us first concentrate on making a systematic evaluation of what is necessary to be done. I think that the turning point comes with the publication of the book and its promotion in the newspapers, the involvement with the public. This helps to remember for the first time that nobody was searching for Madeleine. There was public support, which created some pressure on the political powers. The most important thing is that there are specialists in England who are used to re-evaluating extremely complex cases and who will work on this.

There was a time when news of sightings appeared every day. Do you still receive many contacts for leads to be followed?

Gerry: The majority of things, phone calls and emails, happen when we appear in the media. Often they are visions, dreams, mediums and we do not investigate these claims. We want those persons who did not talk, for whatever reason, to do so now. Some police officers in the UK have told us that with time people'' loyalties and relations change, motivations change and this should not be underestimated.

Do you have anyone in mind?

Gerry: No. I wish I did. That is one of the most difficult things for us.

Kate: Four years is a long time, I feel that we will manage to arouse a lot of people's attention. We have still not manage to reach that person, or persons, who know something. How much longer we will have to work until we reach our objective, nobody knows. But there must be a group of people who know. It could be a question of choosing a certain moment.

Gonçalo Amaral is preparing to publish another book. Do you have a knowledge of this, are you going to act in any way?

Gerry: He prejudiced the search by trying to persuade people that Madeleine was dead – and by suggesting that we were involved, in spite of not having any evidence. That is why we had to go to court: the main libel case is underway. That is all we can say. We did everything to try to find a missing child, while he says that the child is dead. That is hard to bear.

The book mentions spiritual experiences, dreams....

Kate: In September of 2007, although this seems strange, I had still not dreamed about Madeleine. It was a horrible experience. I had this dream three times, I dreamed that I was embracing her, I could feel her, afterwards I woke up and reality struck me. It was horrible, it affected me greatly.

Gerry: She woke up crying and shouting that Madeleine had disappeared. In my case I don't know if it was a vision or a spiritual experience. We were in the church in silence and I had the image of a tunnel. It was very dark, there was almost no light and I had the sensation that we were walking towards the end of the tunnel and that the light was becoming greater and more brilliant. I interpreted this as meaning that we had to do more, there are many avenues to be followed in the search. I felt re-energised. I began to make phone calls, to deal with campaign issues, I felt I had to do everything. It was a moment of contemplation.

Was help from the church important?

Kate: Of enormous importance. The local community was too, there was a mass on 3rd May. It was very important and still is. I have never felt so much support from people I did not know, it was incredible.

Gerry: People, in spite of not speaking English, would say to us: "força, esperança e coragem" (strength, hope and courage).

Kate: He is speaking Portuguese...

Gerry: "Força", we would always say this to one another when we had a bad day. And perhaps, for the people who accompanied us more closely from the beginning, it was different than for those who only saw us on television. We are eternally grateful for the support we were given in Praia da Luz, because it made all the difference at the time.