Lochbroom And Ullapool News
Missing Madeleine!
Madeleine McCann was abducted
from Praia Da Luz, Portugal on
3rd May 2007.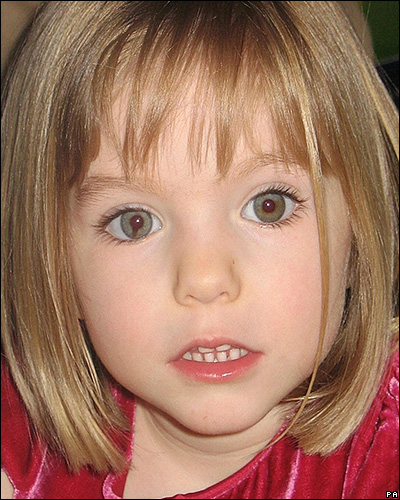 Gerry's brother John McCann, 48, said: "They might have changed her appearance, dyed her hair or cut it but there is one thing they cannot change because
Madeleine has one incredibly distinct feature – she has big blue eyes but in her right eye her pupil has a streak of black which juts out into her iris.
"It runs from her pupil into her iris at the bottom of her pupil. Whoever has her cannot hide or cover that up."
"We will be showing it everywhere to remind people across Europe that all they have to do if they think they see Madeleine is to look into her eyes.
Phil, who resides in Ullapool and is a teacher, has asked that the heartfelt thanks of the whole family be passed to everyone who has helped in the search so far. She said "There have been so many messages of support and prayers from people all over the world. We (the family) are overwhelmed with your assistance. The media people have been wonderful and so helpful in making everyone aware of our plight. Madeleine's family are so grateful to you all. Please keep Madeleine in your thoughts and prayers. We pray that she will be returned to us safe and well."
Its Not An Option To Lose Her Says Philomena McCann
"It is not an option to lose Madeleine. We have to find her. She's an integral member of our family. We need her.
"She's a very bright, outgoing little girl who just wants to have fun. She loves to be spoilt. She likes to dance. She's very sporty for a young girl. She just likes attention. She's absolutely lovely.
"We're a close-knit family – a bit more traditional than many families nowadays – and although we're spread out through the UK we do try and keep in touch regularly.
Of Madeleine's disappearance, Ms McCann said: "They (Kate and Gerry) were going back to check a locked apartment where they had left the kids sleeping.
"They're good parents. They tried so hard to have kids. They have three beautiful children that they absolutely dote on.
She said that criticism of couple for leaving their children alone was "totally unjustified".
"They're normal parents who love their children and would never neglect them in any way. Any suggestions they were neglecting them are completely insulting."
Mrs McCann said her brother and sister-in-law would stay in Portugal until they find Madeleine.
"How can they go on? They need their daughter. We just need to have Madeleine home. These people, or person, have to bring her back to us.
"The whole family needs her here, not just Gerry and Kate, she's just such an integral member of this family,.
"We love children. My job is working with children. Gerry and Kate have caring occupations. Both have dedicated their lives to helping people.
"To have this happen is just the worst possible scenario."
Her message to the person who has taken the three-year-old is: "Please, please bring her back. We love Madeleine. We all love her. The goodwill that we've felt from neighbours and family has been incredible.
"We need her back. Surely, they can see how much we love her and need her. Please give her back."
If you have any information

about her whereabouts,

contact Crimestoppers

0800 555 111 UK

441883731336 Outside

Please Help
Comment: 3rd November 2009 ' minute for Madeleine video' When questioned about her eye.... Dr.McCann said she would be wearing contacts by now and his Dear Kate with a wave of her arm said 'Oh its just a flash you would have to be really close to even notice it'