Daily Express editor says he did not offer to resign over stories about Madeleine McCann disappearance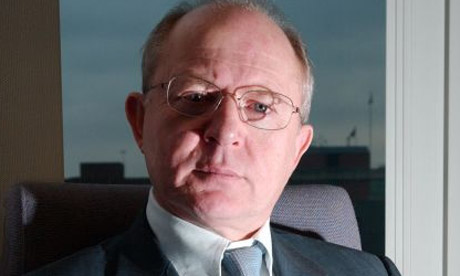 Peter Hill
, the editor of the
Daily Express
, told MPs today that he did not offer to resign over his newspaper's inaccurate reporting of Madeline McCann's disappearance.
Speaking to the House of Commons culture, media and sport select committee, Hill also defended the Daily Express's extensive coverage of conspiracy theories surrounding the death of Princess Diana. "I do not publish stories that I believe to be untrue," he said.
Hill added that he had "certainly not" offered his resignation over his paper's
Madeleine McCann
coverage, because all other media organisations had reported allegations by the Portuguese police that her parents, Kate and Gerry McCann, were suspects in her disappearance.
The four
newspapers
also printed front-page apologies, while Express Newspapers apologised to the McCanns at the high court in London.
"If editors had to resign every time there was a libel action against them, there wouldn't be any editors," Hill said today, giving evidence to the committee's inquiry into libel, privacy and press standards.
Had he been forced to resign, Hill said the chairman of the BBC and a host of other media executives would also have had to depart because they reported that the McCanns had been named as arguidos (official suspects) by the Portugese police.
At the time the Daily Express regarded the police as a credible source of information, he added. "I didn't know that they were behaving like tinpot Ruritanian idiots," Hill said.
The apologies and damages payment by the Express Newspapers titles last year came after the McCanns' solicitors, Carter-Ruck, sent a legal complaint.
However, today Hill refused to accept that his newspaper's reporting had been worse than other titles'. He said the McCanns had complained about 38 headlines in the Daily Express but that the paper had published 80 other stories that were positive to the family.
Hill added that he advocated settling the legal complaint and paying compensation to avoid putting the McCanns through the ordeal of a libel action.
"I accept that we did libel Mr and Mrs McCann because under the law, we clearly didn't tell the truth about them," he said.
Madeleine McCann's disappearance generated huge amounts of public interest, with the Express receiving 10,000 messages a day about the story and its sales increasing by many thousands of copies each time an article about the missing child appeared on the front page, Hill added.
"You have got to remember that this was the most astonishing chain of events. Nothing comparable to this had been seen since the Lindberg kidnapping in 1932," he said.
However, Hill said he recognised that the story was not in the public interest. "It was certainly of interest to the public but I wouldn't say it was in the public interest," he added.
The Daily Express editor also defended his paper's publication of numerous stories on alleged conspiracy theories about the death of Princess Diana in a Paris car crash in August 1997.
"Of course we believed it. I do not publish stories that I believe to be untrue. That is something I do not do," Hill told MPs.
When further questioned about the frequency of Princess Diana conspiracy stories, Hill said that because the inquest had found no evidence to support these theories that was "pretty much the end of the matter". "It's not a crime to have an obsession," he added.
Hill said that circulation at the Daily Express had remained steady during his five-year tenure but there had been a slight reduction in the number of journalists due to difficult economic circumstances.
He also attacked press commentators' use of the word "churnalism" to denote the rewriting of press releases and falling standards in journalism.
"It's a rubbish word. It's a gimmicky word. The standards of journalism have massively increased over the years," Hill said.
"We do not have a free press in this country by any means. We have a very shackled press. We should be looking at freeing these shackles not imposing more, which seems to me to be the tone of this hearing," Hill said.