By ONLINE REPORTER
Published: 12 Dec 2007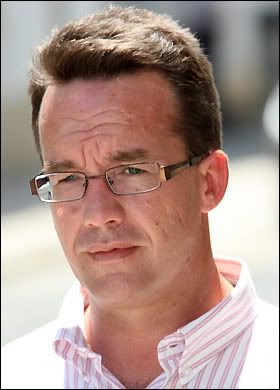 Robert Murat...suspect

GERRY and Kate McCann were today slammed by the mother of missing Maddie suspect Robert Murat.

Jenny Murat said her family had been 'penalised' because the McCanns had left Madeleine alone in their holiday apartment.

And she accused McCann's hired private detective agency of bribing witness to change their stories.

In an interview today, Mrs Murat, 71, said friends of the McCanns, who claim to have seen Mr Murat outside the apartment on the night Madeleine vanished seven months ago, were lying.

Her allegations have all been denied.

Mrs Murat said: "I really wish the McCanns had never come on holiday to Praia da Luz.

"I bet they wish they had never come on holiday either. The worst part of it is they did something wrong (by leaving Madeleine alone), we did nothing wrong and we have been penalised for their mistake."

She added: "It is really upsetting. I cannot tell you what has been going on here. It has just been horrendous."

She said the Metodo 3 agency had hired detectives to follow her for a week.

"Metodo were getting people to change their statements, following everybody everywhere. They were certainly following me.

"They were following me everywhere. Why? I don't know. It's pretty scary I can tell you.

"I am 71 and I am getting followed everywhere by people. Was it the Portuguese police? Was it the British police or was it Metodo 3?"

She reiterated her alibi for her son whom she insists was with her the whole evening on 3 May from 8pm.

http://themaddiecasefiles.com/post36616.html#p36616